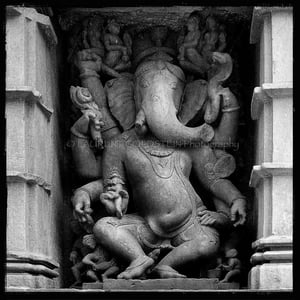 €

210.00 - On Sale
"Happy Ganesh Chatrurthi"
Khajuraho, India, 2008.
This picture of Lord Ganesha was shot in a temple of Khajuraho located in the Indian state of Madhya Pradesh.
Available in 2 sizes:
- 30cmx30cm (11,81"x15,75")
(Limited edition of 29 prints)
- 50cmx50cm (19,69"x27,56")
(Limited edition of 15 prints)
Please inquire if you would like larger size for price quote.
Each print is hand signed (in front and reverse side), numbered and comes unframed with a certificate of authenticity.
Printed on High-quality photographic paper.
Does not come watermarked.
(All prices include shipping costs.)